Isola Expands Its Portfolio of Halogen-free PCB Materials for High-end Mobile Applications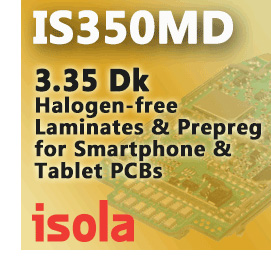 The demand for faster processing and more efficient designs in smartphones and tablets is driving the need for thinner, more powerful PCBs. These thin PCBs require low-dielectric constant (Dk) laminate materials to meet the impedance requirements of these advanced designs. IS350MD, with a Dk of 3.35, was engineered specifically for these types of ultrathin dielectric applications. IS350MD fits nicely between Isola's well-established standard Dk material, DE156, and the company's ultralow Dk material, IS300MD, which was introduced in 2014 and quickly gained momentum in the High Density Interconnect (HDI) market.
IS350MD is an FR-4 type base material with a resin matrix; it is based on a modified epoxy resin reinforced with conventional E-glass fabric. The requirements of flammability class V-0 per UL-94 are met without the addition of antimony compounds. As the IS350MD material does not contain halogens, it displays greater thermal stability than a standard FR-4, as demonstrated in its Time to Delamination (T288) measurements.
IS350MD is engineered for ease of manufacturing. IS350MD laminate and prepreg can be tailored to any thickness to meet the needs of the latest multilayer HDI buildup technologies. It requires a short press cycle and, similar to FR-4 materials, it does not require plasma for desmearing, making it ideal for HDI mobile applications, while providing a very competitive low cost of total ownership.
To learn more about IS350MD, please visit http://www.isola-group.com/products/is350md/.